01
SAPSAL is a waterproof pet mat with extra cushioning.
02
Portable and easily rolled up - ideal for use in crates, kennels, porches, vehicles, boats, outdoors and camping areas.
03
Made from eco-friendly materials used for baby toys, the SAPSAL mat does not contain any formaldehydes or phthalates and has been certified by international certification organizations.
04
Unlike rugs or fabrics, the SAPSAL mat is free from worms or ticks. Your loving pet is protected from skin problems because it is hygienic.
05
Easy to keep clean – just wipe it or wash with water.
06 / 07
No additional cushions or pads needed when you have a SAPSAL mat.
When in contact with warm floors or animal skin, the SAPSAL mat gets even warmer. It provides extra cushioning and comfort while your pet sleeps or lies on it.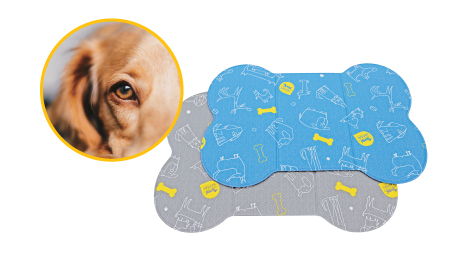 It was common understanding that dogs can recognize ¡®brightness¡®, only but some research result found that dogs can tell the blue and yellow color.

So pets can distinguish our Sabsal Mat and other objects easily and can stay more pleasantly.

Grey color on the mat doesn¡¯t ruin your home interior with its refined design, and the point color of yellow will make your pet to find its mat more easily.
Features



Where necessary SAPSAL mat?